Hey guys, today in this blog post, we will discuss How To Easily Create Your Video Ads With PosterMyWall. So keep reading.
In this digital Era, video advertising has become a dominant force and irreplaceable part of digital marketing strategies. Therefore, you can not neglect it. However, making an ad video requires continuous effort and hard work. But the good thing is that with the help of the right tool, you can easily create compelling videos for your digital ads.
Furthermore, educating consumers at every aspect of their buying process requires a video advertising strategy that offers a seamless user experience. Therefore, you will need a good video creator tool. There are lots of video creator online tools out there. In this article, We are going to show you How To Easily Create Your Video Ads With PosterMyWall.
PosterMyWall
PosterMyWall is a multi-purpose online graphic design tool used for creating content for social media accounts such as Facebook, Instagram, Twitter, etc. These include videos, posters, flyers, menus, and more. This tool is best for marketers, small businesses, professional services, and creative artists to promote their online work and services.
Furthermore, PosterMyWall offers a wide range of customizable templates in the templates gallery, where new templates are added daily making it one of the best flyers and poster maker tools. You can customize these templates in an easy-to-use drag and drop editor. It is the best solution for more personal themes, like family, collages, friends, and greeting cards.
Let's start our video ad creation with PosterMyWall.
Creating Video Ads With PosterMyWall
To create a video ad with PosterMyWall, first, go to the PosterMyWall website and select CREATE A DESIGN option.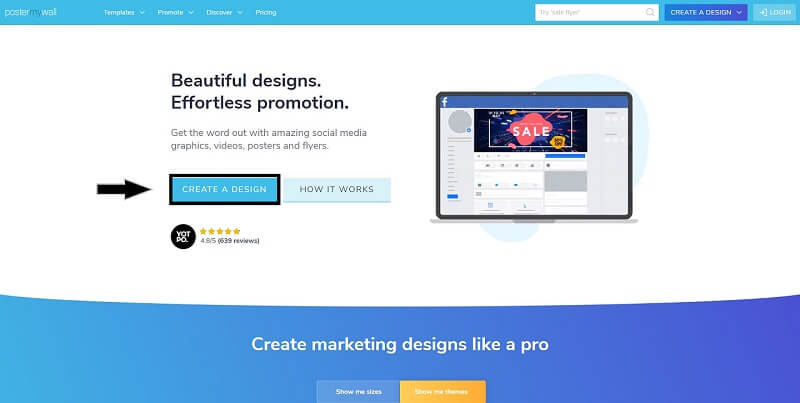 Now you get two options- you can either choose the pre-existed template or create your template design from scratch for your video ad. If you have a clear image of your video design or idea about how your video template should look, you should go for the 'Create from scratch' option. However, if you are not sure about design, do not have any preferences, or are new to designing in general, we recommend you choose a pre-existed template for your video ad project.
To show PostMyWall's video editing features and template variety, we are going to create a car washing ad video using pre-existing templates.
Creating Video Ads Using Templates
Step 1
The first step is finding a template for your video. To find a template for the project, type the video topic in the 'search for design template' box and filter it for video only. Here we have searched for car washing. After the search, you will get lots of video templates for reference. You can choose any of the ones that you like for your project.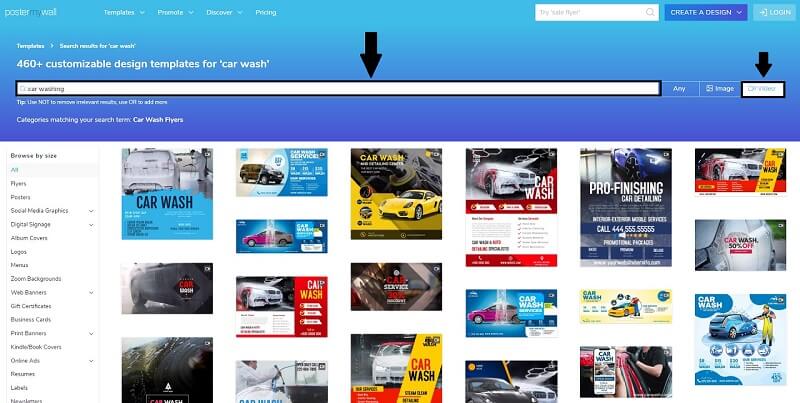 Step 2
Once you find the video template, click on it, and you will get the 'Customize Template' option. After clicking this option, you will see a new page where you can edit your video template.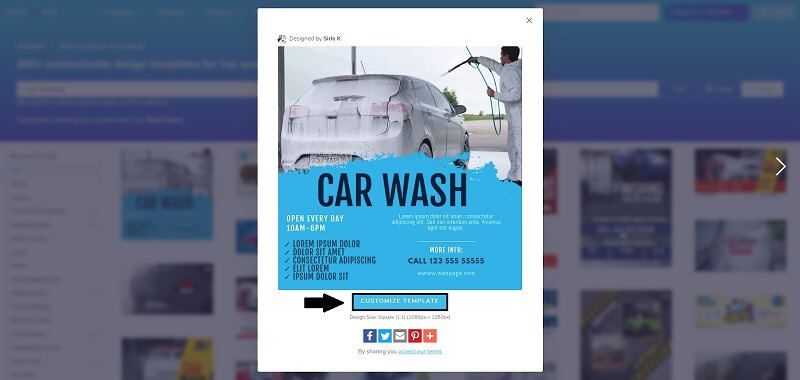 Step 3
On this page, You can drag and drop the new components or adjust the size or position of the existing components. Here, you will also get lots of features and customization options for your video project such as-
Photo- To add photos and slideshows. You can add photos from your computer, Google Drive, Facebook, Dropbox, and various stock libraries.
Elements- With this option, you can add Elements like shapes, clipart, stickers, and QR codes.
Text- To add plain text, fancy text, slideshows, and menus.
Media- To add video and audio from your computer or stock resources.
Layout- To add Schedule, table, menu, and tear-off tabs.
Background- To add custom backgrounds, or upload your own or stock images as backgrounds.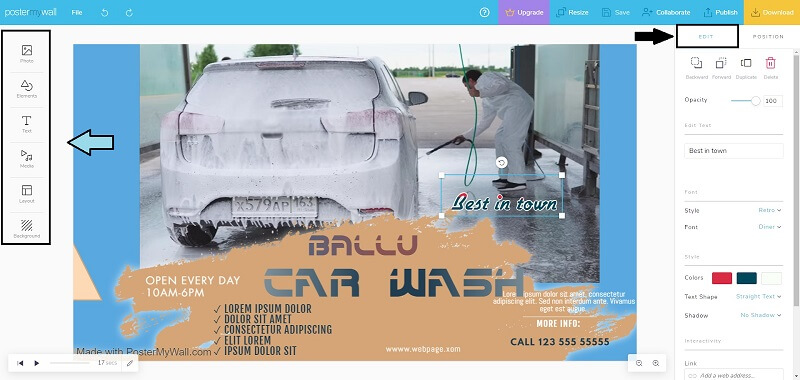 Once you select a component, you can customize it from the edit option on the right side. For instance, if you added a text, you can change its font, style, color, text shape, and add text shadow or link. You can also change its position or make a copy from here.
Step 4
After adding all the components and doing customization, the next step is selecting the size of the video. According to your need or preference, you can choose from sizes-
Square (1:1) 1080px × 1080px
Digital Display (16:9) 1920px × 1080px
Digital Display (9:16)
On the design corner, you can insert the intro animation, adjust the animation speed and change the background color. Here you can also add the template title and layout features like a grid, fold, bleed, etc. On the bottom left video controls, you can check the length of the video too. If you think the video is too short or long, you can alter its duration from here.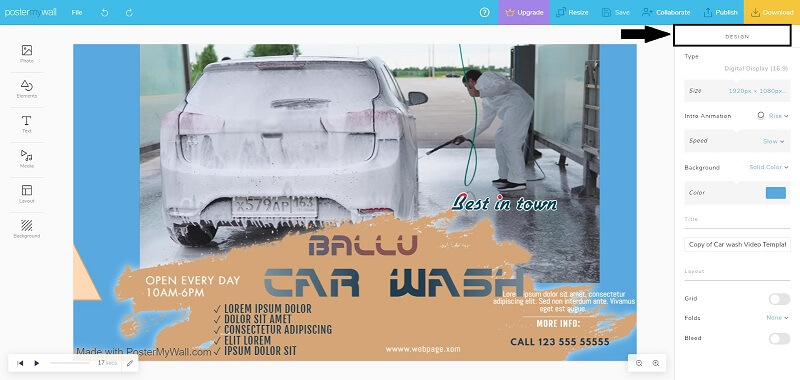 Step 5
After completing the design, You can download it from the top right corner. You can also publish this video to your social media account directly from its interface. In addition to this, PosterMyWall also lets you save your project for future use.
If you have the premium version of PostMyWall, you get the extra features like unlimited high-res image and video downloads, One-click background removal, spell checker, Custom fonts, Team collaborations, Scheduling social media posts, etc.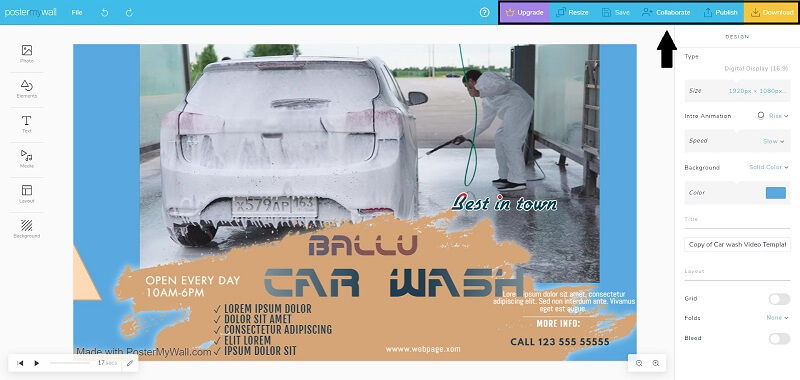 This way you can create your own video ad at PostMyWall. If you already have a video prepared for the ad, you can go to 'Create from scratch' and edit your video further for better user engagement.
Conclusion:
In this modern era, the rise in smartphone use, with improved internet speed, has led to a boom in video advertising strategy, and now it has become one of the best ways to reach online audiences.
As some of you already know, video advertising is the process in which companies display promotional content to the thousands of people who watch videos every day.
PosterMyWall allows you to build creative good looking flyers, posters, videos, etc., to reach out to the audience. Video ad content depends on the context in which consumers are exposed to them and the amount of engagement they generate.
With cost-effective video advertising such as with PosterMyWall, marketers have greater opportunities to experiment with video content and see what works best.
I hope you liked this blog post on How To Easily Create Your Video Ads With PosterMyWall. Thanks for reading!.