Hey guys, are you looking for the best free text editor tools that you can easily use in 2023? If yes, then keep reading this article.
Text editors have become a vital part of development industries. They speed up your process of finding errors or changes to a page and apps. Besides this, Text editors are also useful when you are writing precise and effective code while evading formatting problems. These tools have entangled with almost everyone's workflows, from development teams to publishers.
A good text editor allows users to collaborate, edit real-time codes and share among the whole team so they can comment or discuss, etc. However, finding a good text editor is a tricky task since there are lots of text editor tools available in the online market.
To help you find the best text editor tool that suffices your need, Articoolz has created a list of the 7 best free text editor tools that you can try to speed up your development process.
List of The Best Free Text Editor Tools:
1. Notepad++
2. Komodo
3. Microsoft Visual Studio Code
4. Coffee Cup – The HTML Editor
5. Sublime Text
6. Light Table
7. UltraEdit
1. Notepad++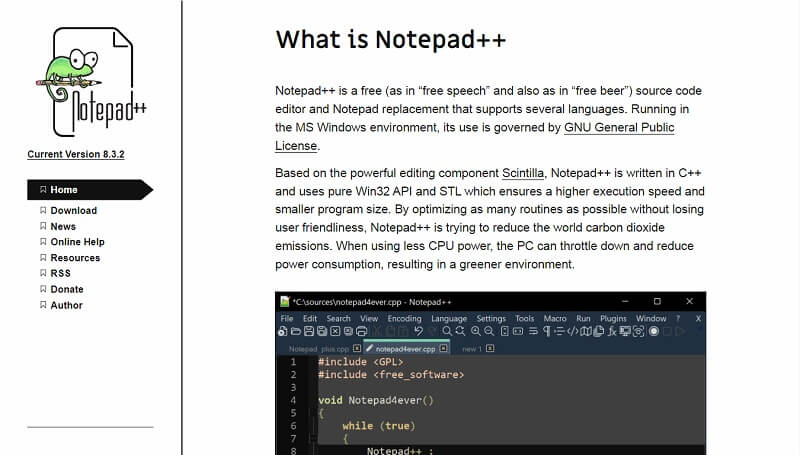 The first text editor on our list is Notepad++. It is a free source code editor tool that supports multiple languages. Notepad++ is best for working on PHP, TXT, HTML, CSS, and XML files. This powerful text editor lets you paste snippets from FTP clients, examine codes, and use them directly without waiting for the development environment to load. Because of these features, it is popular among programmers.
Furthermore, Notepad++ is written in C++ based on the powerful editing element Scintilla. It also uses a Win32 API and STL to ensure a smaller program Size and higher execution speed. Also, Notepad++ has several other helpful features, such as an autosave feature that lets you store documents temporarily to another location, an interface for tabs, and quality support for macros and plugins.
2. Komodo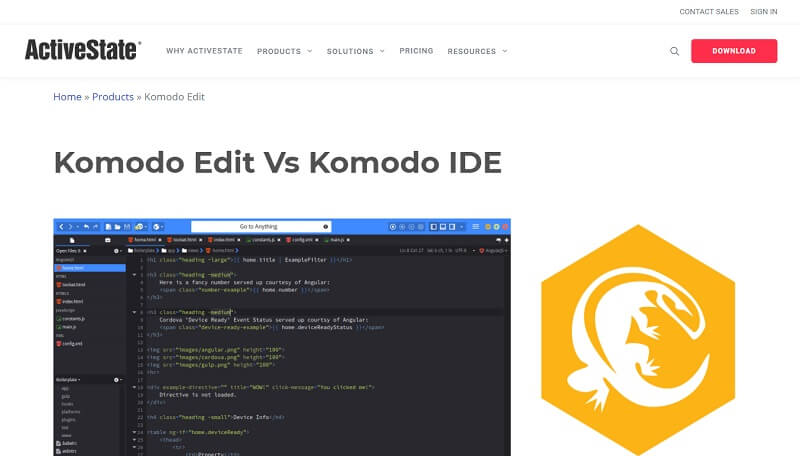 Komodo is another powerful text editor tool that provides you robust functionality such as Auto-Complete & Calltips, Multi-Language Editor, Multiple Selections, Toolbox, Projects & Places Manager, Skins & Icon Sets, Minimap, Track Changes, Commando, Kopy.io Integration, etc. It is free and open-source. So you can work on regular tasks directly on its interface.
In addition to this, Komodo also offers an IDE version for developers that gives you features like Chrome Debugging, Gulp, Grunt, NPM, Yarn Integration, PhoneGap & Cordova Integration, Symbol Browser, Run In-Line Tool, Docker Integration, Code Refactoring, Visual Debugging, HTTP Inspector, etc. Also, Komodo IDE gives you full support for all frameworks and languages, making it an ideal option for web development.
3. Microsoft Visual Studio Code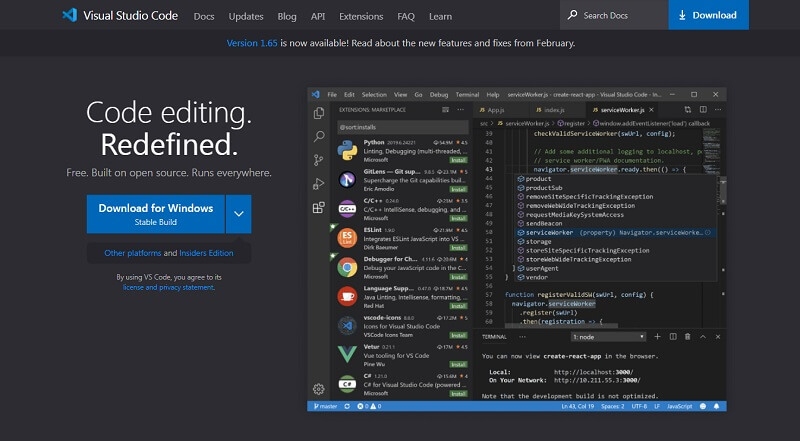 Microsoft Visual Studio Code is next to land on our list of the best text editor tools. This powerful tool has many packages and free extensions that give higher functionality with excellent time and speed. You can also personalize the code editor according to your need or preference. While compiling, Visual Studio shows on-the-fly pop-ups that indicate the documentation for methods and classes.
Furthermore, Visual Studio Code has its built-in terminal and provides quick organization support, debugging syntax checking, and interaction with various source control technologies. Microsoft Visual Studio Code is available for Windows, Linux, and macOS.
4. Coffee Cup – The HTML Editor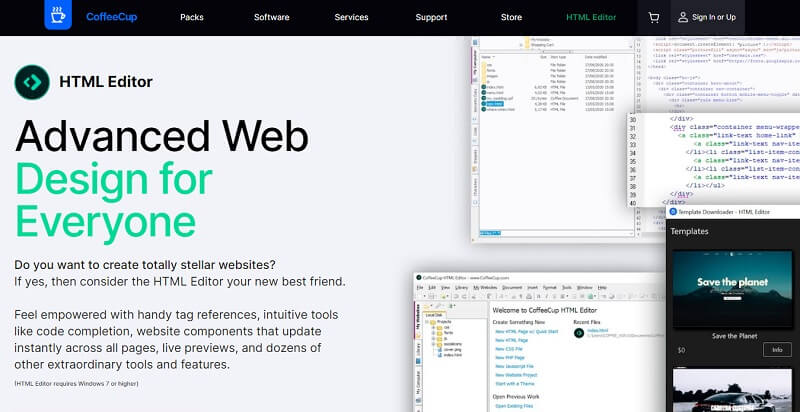 CoffeeCup-HTML Editor is a robust text editor best for coding and all-rounder website design management. This powerful text editor offers handy tag references and intuitive tools such as code completion, live previews, Visual code selector, customizable templates, tag highlighting, and many more.
In addition to this, Coffee Cup- The HTML Editor is also good for those who are learning HTML or PHP languages because it can save you lots of your time. You can choose CoffeeCup – HTML Editor while producing HTML pages. However, this tool is not entirely free. You have to buy its premium plan if you want its full functionality. The free version has limited features.
5. Sublime Text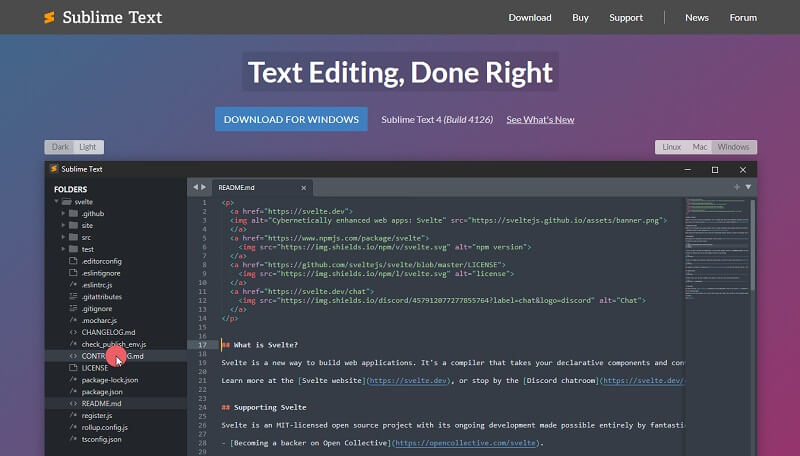 The next text editor that comes on our list is Sublime Text. Sublime Text establishes the benchmark for text editors for developers. This powerful text editor tool is feature-rich and offers an attractive interface. Also, Sublime Text offers quick shortcuts and search, and the interface has a split editing and distraction-free writing mode feature.
In addition to this, quick shortcuts also let you display and conceal the sidebar, selecting a specific line number, duplicating lines, etc. Sublime Text has a large repository for an open-source library of sample applications, documentation, plugins, themes, extensions.
6. Light Table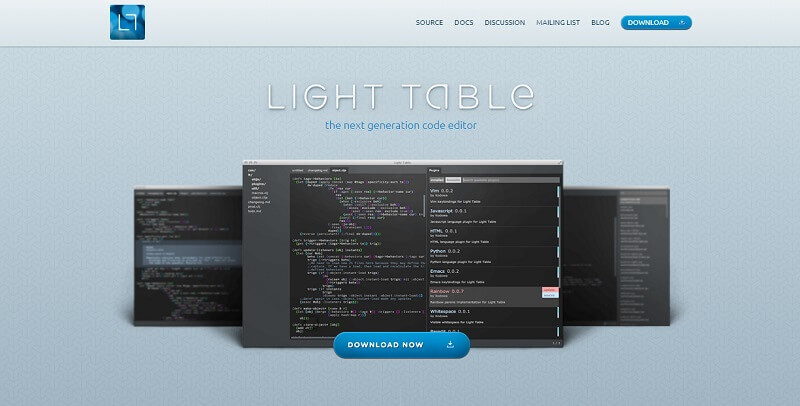 Light Table is a highly customizable text editor tool that offers features such as quick feedback to correct mistakes on the fly, inline evaluation, go over code, and quick guide and documentation. Furthermore, texts are developed in an execution environment to give rapid feedback.
Open source Light Table has a lightweight, clean, and sleek interface that provides you with all the power, functionality, and editing features that you expect from an editor. In addition to this, Light Table also has a plugin manager that hooks into the central list of plugins. So, you do not have to search all over the web to find the ones you need for your projects.
7. UltraEdit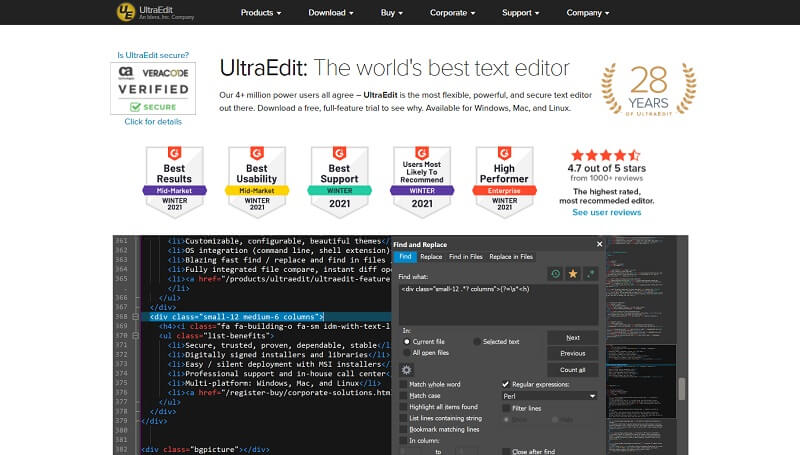 The last tool that lands on our list of the best text editor tools is the UltraEdit text editor tool. This powerful editor tool offers powerful performance, flexibility, and security with a clear and sophisticated layout. UltraEdit can handle large and complex development projects with ease. Also, UltraEdit has an all-access package that lets you access several useful tools like an integrated FTP client, a Git integration solution, a file finder, etc.
In addition to this, UltraEdit has powerful and reformat source code, and because of it, UltraEdit never feels overwhelming, despite its extensive range of features. However, this tool is not entirely. It comes with a 30 day trial period only. After that, you need to buy its paid subscription plan.
Conclusion:
Text editors are the lifeblood of many businesses and organizations across the globe. They come in handy while writing codes, PHP, or just taking notes for the project. You can try the above tools to make these tasks a little easier.
Furthermore, if you have any queries regarding the article, you can ask me in the Comment section below.