The 404 page is a standard page that you have seen many times, and you will also notice that the templates are different every time. You must be wondering what these collections of templates are and where you would find them. Well, the HTML 404 page templates can be found in the article below. But you must look for a template that is compatible with your website and looks coherent with your design.
Do not go for the absurd and over-the-top designs because they can also affect the overall look of your website. While you are wondering about the best HTML 404 page templates, we have combined all the best options for you in the list below. So, without wasting any other time, take a look and check them out right now.
Below we have compiled some of the free HTML 404 page templates that you can check out.
Also, you can see:
1. Simple 404 Page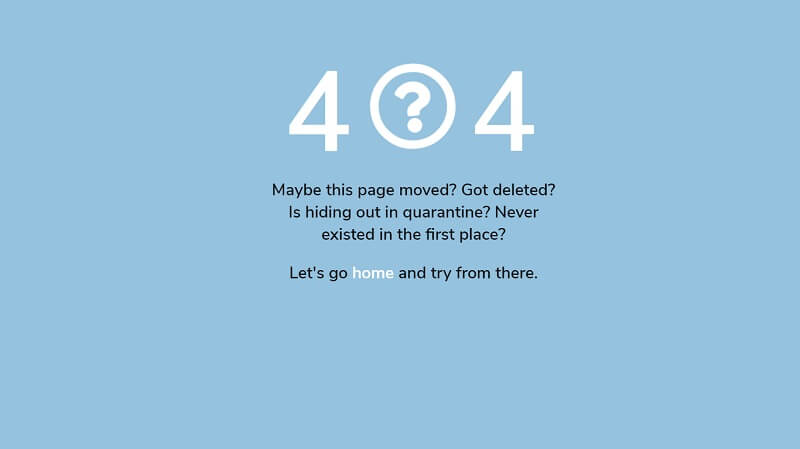 If you are looking for a simple and basic 404 template that looks plain and clear, this one is the ideal choice for you. This one does not require any dependency, and it is the most popular template that you must consider getting.
This is a standard 404 page that you will come across much time. It is by purplexmoss. This HTML page is compatible with Google Chrome, Edge, and Firefox. It is also compatible with Safari, Opera, and edge. It is made from HTML and CSS, and it is not a responsive page.
2. Sassy 404 UI Study
The next one is the 404 page that is made from SCSS or HTML. It is compatible with Chrome, Firefox, and Safari. You will also find it responsive on Opera and edge. And yes, it is a responsive page that is created by Justin Juno.
This Sassy 404 template is a little extravagant and looks stunning. This one is the appropriate choice for a creative website with a bright outlook. This crisp-looking template is the best to have for your bold and bright website.
3. 404 Page
This one is another one of the simple 404 pages created by Genaro Colusso, and it has been made with HTML and CSS. It was built on March 31, 2020, and it is responsive as well. The compatible browsers are Chrome, Firefox, and Safari. You will find it responsive on other browsers, including Opera and edge.
The following simple yet elegant 404-page template is this one by Genaro. It is no doubt an excellent option that is responsive and does not have any dependency.
4. 404 Makes Bear Sad
Made by Jhey on March 22nd, 2020. It is made from HTML and CSS stylus. JS is also used for the creation of this 404 template. It is compatible with Chrome Browser and even Firefox. Safari edge and Opera also work for this 404 template. Also, it is a responsive template with the dependency of react.JS and reacts – Dom.JS.
This sad bear template is the unique choice for the kid's website and a fun website. No doubt this one is simple, unique, and super aesthetic.
5. 404 Page By Kasper
The following 404-page template is by Kasper Be Bruyne, which is made with Html. The CSS or SCSS is also used to create this template, and JS Babel has also been used. This template by Kasper was started back on February 18th in 2020. Whereas the template is responsive as well with the bootstrap.css dependency.
This template is also dependent on gsap.js. This template is a responsive one and an aesthetic template as well. Moreover, it is compatible with chrome, edge, firefox, and safari as well.
6. 404 Error Page By Swarup
When you need a creative 404-page template and do not want it to be dull and plain, this Swarup Kumar Kuila 404 error page is the optimal choice. This template can work well on chrome, edge, safari, and Opera as well. If you are wondering if it is responsive or not, well, yes, this template is responsive and has the anime.js dependency to work correctly.
This 404 template is made with HTML and CSS. JS has also been used for the 404 animation template. Again, this one is no doubt the best of what you can get.
Conclusion
Now that you have read about some of the best 404 templates, you can finally decide which one is the best for your website. There are hundreds of other 404 page templates that you can choose from according to the dependency and the compatibility with the browser.
However, make sure you are getting the 404 template that is responsive and highly compatible. It is essential to look for a website that is elegant and coherent to the design of your website. It is always best to look for simple 404 templates that are easy to read and highly compatible with your website.
These all the types of templates that are mostly compatible and coherent with the design of most of these websites. Or you can also look for elegant or a little Over the Top templates that will look good for your website.
These 404 templates are readily available, but you can download them and install them on your website without difficulty. You can easily find out the demo link and code to search for 404 software to check out whenever you plan to get the 404 templates.
It is essential to have a 404 template for your website when your website is unresponsive or has some technical difficulties. Ensure you are checking out various options whenever you plan to choose one of the best choices. It is also essential to check the other templates that are not simple and plain with a white background.
You can get templates that have several diverse backgrounds and animation as well. The above list has plane options along with the animated options as well. Check out these templates right now and find out which one is the most appropriate for your website.